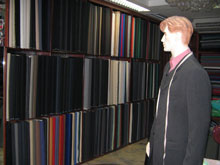 Big Boss Fashions. Online phuket tailor Ladies & Gents Custom Tailors.Having been in business for several decades and being the finest tailoring establishment in Patong beach phuket Thailand, we emphasise on building long term relationships with our customers, working closely with them to achieve what they want. We maintain our customers? records and measurements for a period of 15 years. We cater to both the domestic and foreign markets and have a large customer base from Europe, USA, Japan, Asia and Middle East. We provide a wide range of products for gents and ladies tailoring, followed by services such as mail order service, alteration services, delivery services and pickup services.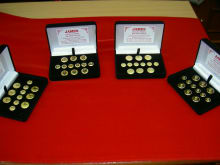 We stress on superior quality, guaranteed workmanship by our professional tailors at a very reasonable price. We focus on customer satisfaction as our main selling objective. We are confident that our customers will be pleased with the quality and level of service that we provide. We have served many foreign ambassadors and celebrities and become highly recommended by foreign embassies of France, Germany, Netherlands and Spain. We are recognized by highly acclaimed universities of the United States and the United Kingdom, making us the premier choice when it comes to custom clothing. We are also recommended by foreign trade travel magazines as a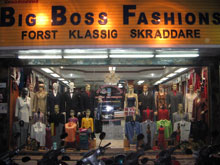 major clothing destination and many more. With over 30 years of fitting experience and the latest designer style-books at your disposal, you will receive the most satisfactory results. We guarantee that you will be pleased with our services and that you'll be back for more. We accept all major credit cards, personal checks or cash. For any information on our products and schedules, kindly fax, e-mail or telephone us (using the details found in our Contact Us section).
Why Custom Tailored?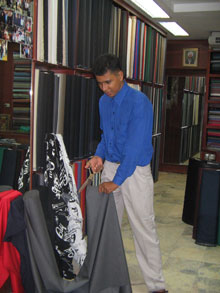 You can create a wonderful wardrobe by having clothing custom tailored. If you are frustrated by what is available in department stores or, because it's a bargain, you often settle for clothing that almost fits. We make a detailed record of your body form which assists our cutter to take shoulders and standing position into consideration. You Choose the Styles and Cut - Traditional, Contemporary and European.
If your closet is full of "mistakes" but you find yourself with nothing to wear because the pieces just don't go together, you have already discovered the reason why few of us can afford to be impulsive shoppers. When choices in the retail market are so limited, prices too high and quality too low, we choose to overlook the imperfections because we have no other choice.
The result? It doesn't fit and you won't wear it! We offer you an alternative. Our service results in clothing that is personalized for your particular body type, your personal style, color and preference. In our decades years of experience in tailoring, we have acquired a huge selection of linens and materials from all over the world. This coupled with our extensive skill and experience needed to fit the needs of our international clientele makes us one of the most renowned and sought-after tailors in all of Southeast Asia.
| | |
| --- | --- |
| | |
| Our huge collection of fabric comes from all over the world | We work closely with our customers to ensure satisfaction |
| | |
| Our fine tailors make very well fitting and professional clothes | We also have a wide variety of shirts and ties |
| | |
| Our huge array of quality shirting materials suit every customer's needs with no shortcomings | Every step in the process of making your custom clothes is done with the uttermost care and supervision |
| | |
| We also have exotic fabrics such as thai silk at good prices | We keep records of your measurements in our database |