We are conveniently located at 190 Ratutid Road, Patong Kathu, Phuket, (83150) Thailand. You can get to us easily by either driving to us on your own. Incase you cannot find us, you can always give us a call so that we can assist you and drive over to pick you up.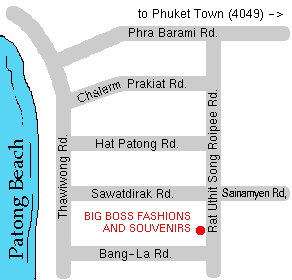 WORD OF CAUTION: Since there are several "Big Boss", we strongly recommend that you call us to pick you up. As tuk-tuks, taxis, tour guides and some hotel personel will try to take you to the other shops, as they get a commission of up to 30% and that is coming out of your pocket.
Call us yourself, not through hotel staff or other persons, for a free pick up.
Copyright © 2004-2005, Big Boss Fashions. All Rights Reserved.